STORY CREATED BY BRAINY SWAIBU ON 21st January,2022.
Before the year 2021, over 1.5 million refugees would be served with food rations in Uganda.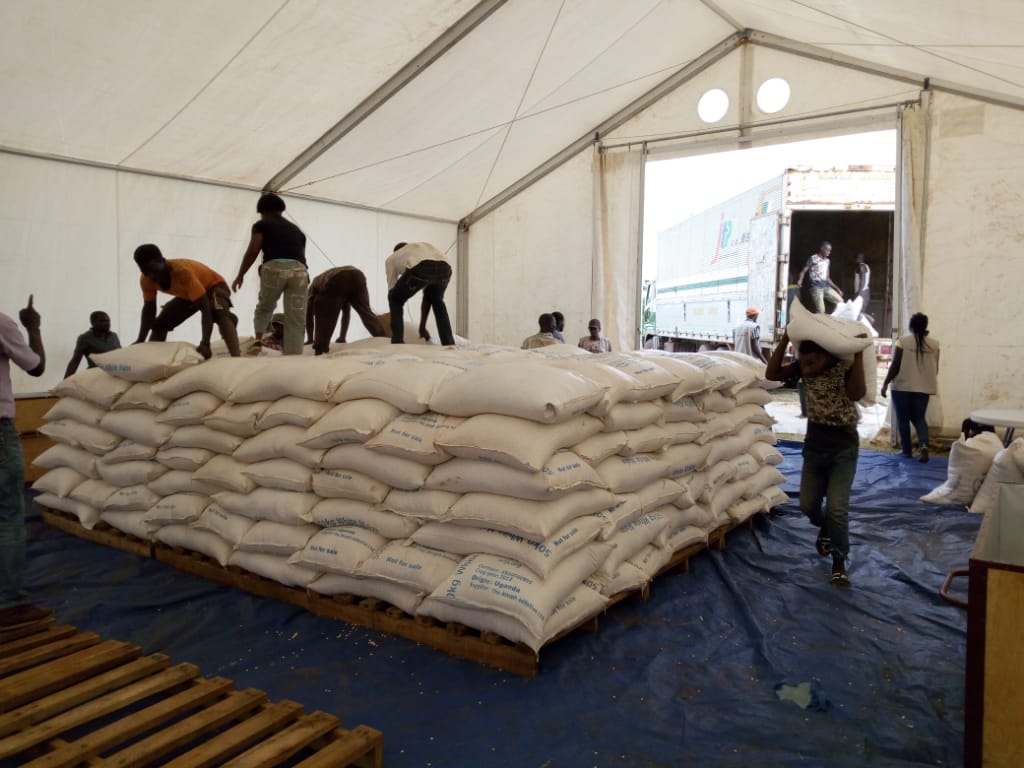 The wait in line
During the day of food distribution, people waited in zigzag queues, murmuring about the yet-to-be served rice or corn, and the relief of receiving their next rations. Mutimukeye Butoto, 34, a refugee from the Democratic Republic of Congo (DRC) is among the refugees in the 11:00 a.m. sun. She stands with her son, waiting to be called on by the ushers. Most parents bring their children to help them carry the food. Once everything is set, the ushers are ready, the WFP verification desk is ready, the distribution assistants and porters are in place, the refugees are ushered in in groups of 20-30. After about 100 people, it would be Mutimukeye's turn.
She would join the line after washing her hands at the handwashing point (a precaution for Covid-19 prevention). She would proceed to the verification table where her fingerprints and eyes are checked and her document seals scanned. She is good to go. She proceeds to the rub hall stacked with over 200 bags of rice or corn and beans in rows. A list of what she is getting today is handed to her and each item marked as she receives it. Salt, vegetable oil, beans and rice.

The food is weighed. Mutimukeye and many others would receive 12.6 kg of rice, 2.4 kg of beans, 0.9 litres of cooking oil, and 0.15 kgs of salt. After receiving her food, a porter (from World Food Programme staff) stands by to help her carry the food outside the food distribution point. The porters use wheelbarrows to help people carry and load the food to their own transportation means. Mutimukeye hires a motorcycle (bodaboda), the most commonly used means of transportation. After a five-minute fervid negotiation, the two reach an agreement on how much she will pay to carry her, her son and the food home. On average, a bodaboda charges UGX 5, 000 ($1.50 USD), a high price for refugees like Butoto who earn only about UGX15, 000 (about 4$4.50 USD) a month from occasional digging.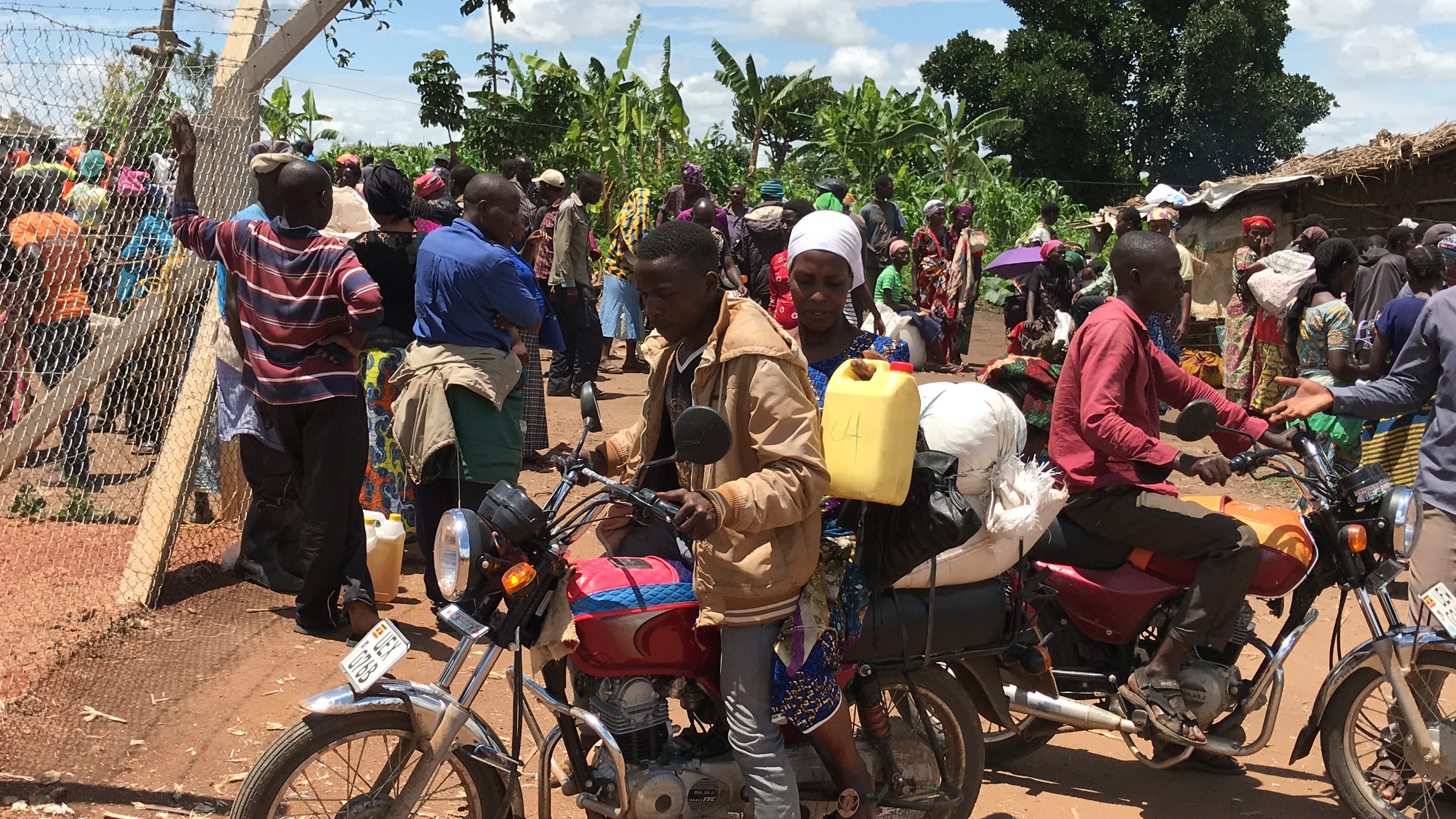 Rationing at home
Mutimukeye stays in her village, about 4 km from the food distribution point. We go with her to give her company as she prepares a meal on this chilly Wednesday afternoon. In her one-bedroom hut, she stays with her three children. She has a sister who stays across the road and they often spend their time together. Mutimukeye's husband died in the war in DRC. With her sister's help they begin the preparation for the evening meal that should have been lunch. The hungry children look on in anticipation.
From last month's ration, Mutimukeye has a little maize flour left. To the children's disappointment, she decides rice will be for tomorrow. Today it will be posho (maize meal), with silverfish mixed in vegetables as a sauce. She cannot cook the beans now because it would take too long to get ready. "The children don't like posho a lot. They actually love Irish potatoes and rice. Irish potatoes is the favorite for all of us, but it is so expensive. We only eat it once in a while when I get some money," she said.
The majority of refugees (75%) prefer food rations compared to some 85,000 (25%) who chose to opt for cash vouchers which they can use to buy food. The latter group receives UGX 31,000 ($9).
"I think about it a lot. I feel cash would give me the opportunity to buy whatever I want and also maybe invest some of the money somewhere. But I am too scared to try it yet. What if it is not enough? You can do without cash but you cannot do without food. So, for now, I will stick to food until I am fully convinced that cash is the best option," she rationalizes. Those that receive cash mostly include the elderly and other people with special needs.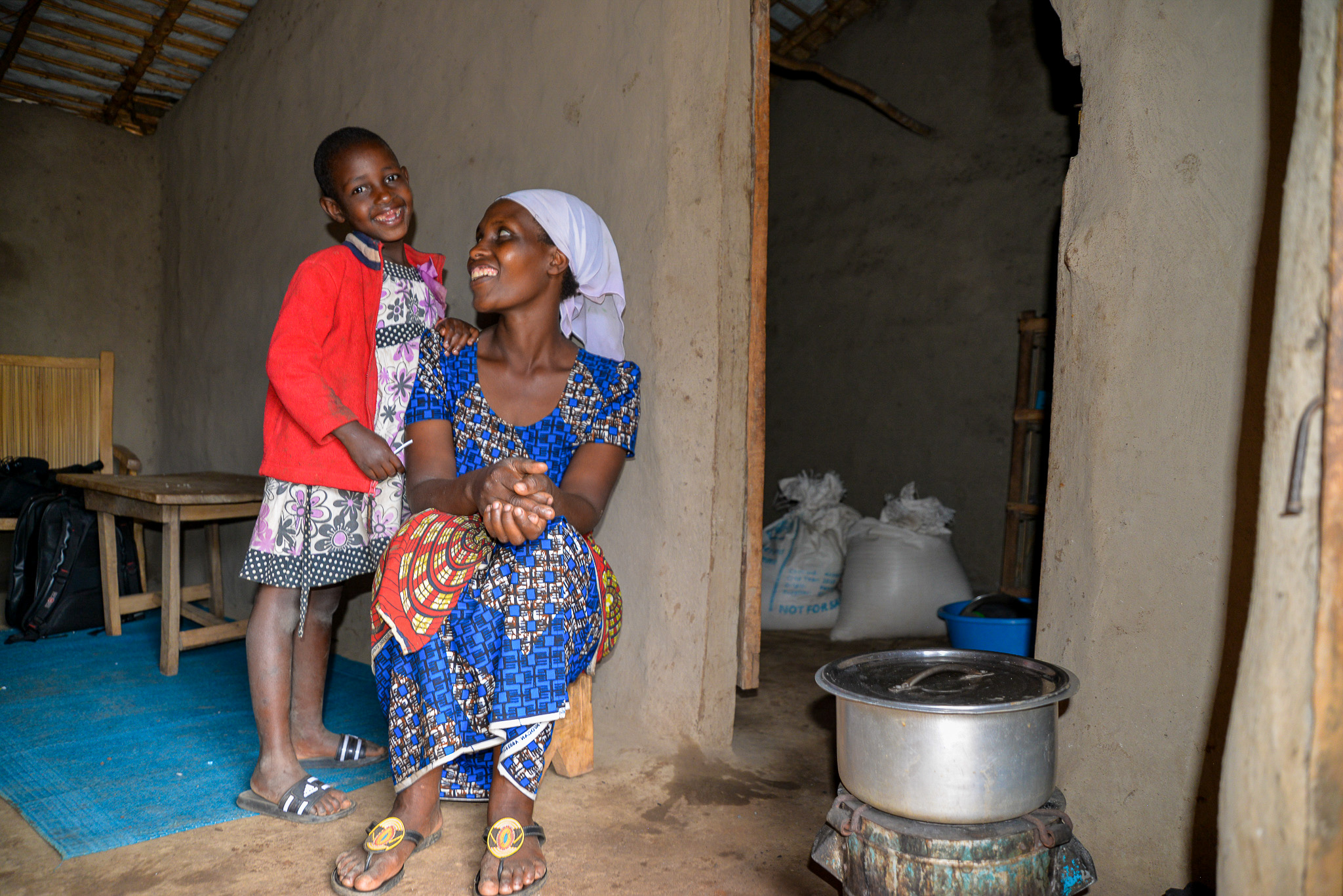 Finally, at about 3:00 pm, Mutimukeye starts preparing her meal. Although it is a simple meal, it takes a lot of time to prepare on an open flame especially given the poor quality of charcoal Mutimukeye must use to cook. Two hours later, the food is ready. The family eats from the same aluminum plate. The three children are on the floor, their mother perched on a stool, struggles to reach for the food as she monitors everyone's 'table' manners. They all seem to enjoy the only food they have eaten since morning.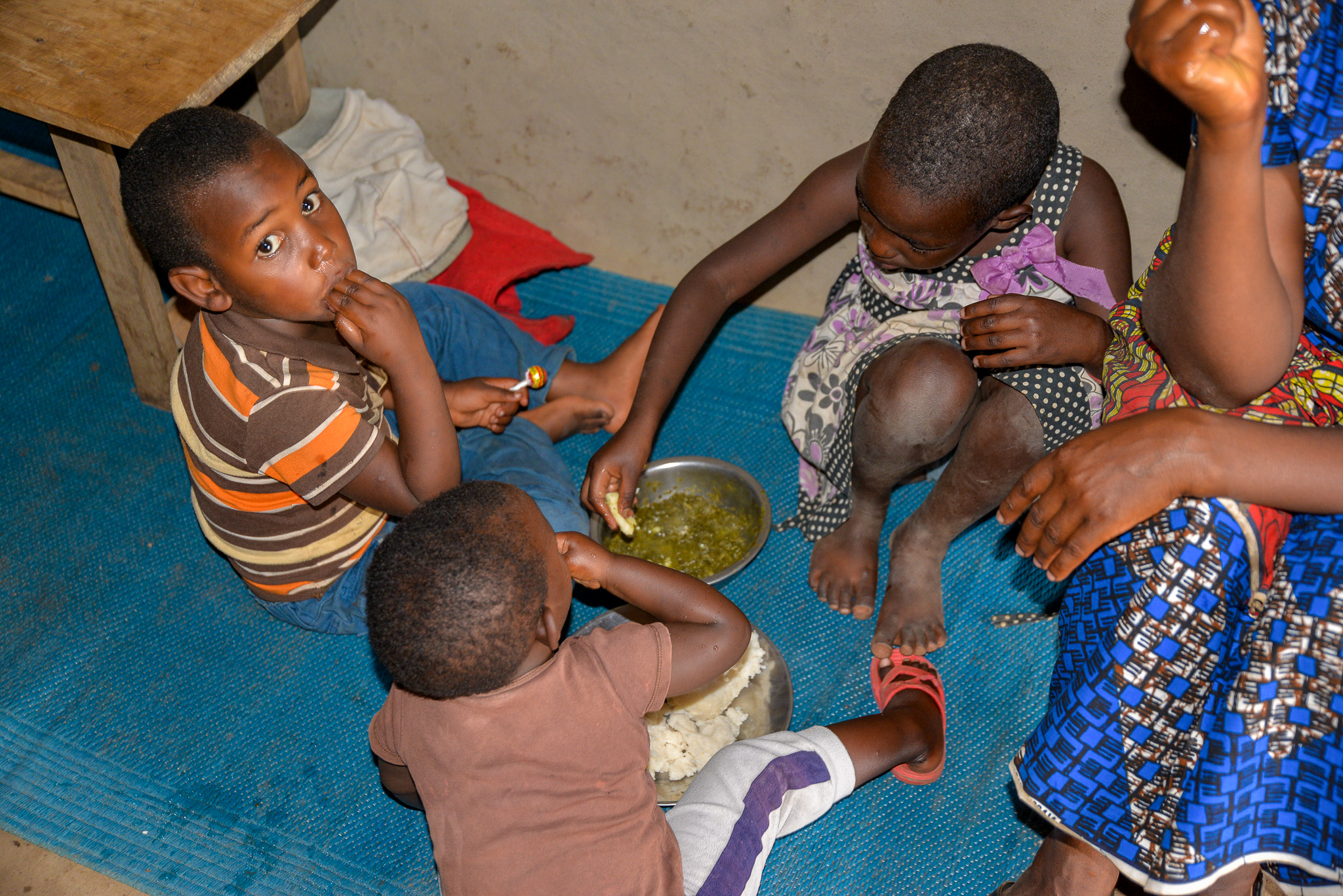 After the meal, Mutimukeye starts preparing for the next day's meal - rice and beans. The children are happy to learn this. The beans need about 2 to 3 hours to get ready. After sorting and washing the beans, she puts on fire where they will cook overnight.
Will there be dinner on this day? It is a luxury they cannot afford. "We are lucky to have eaten this late, so we will still be fine at dinner time. Sometimes we leave some small food in the saucepan, especially for the children, but cooking dinner is something that never crosses my mind or that of my neighbors. The food would never make it through the month if we are to prepare dinner every day," she said.
For now and the next month, Mutimukeye and many more like her who received food items that day, are sure of at least one meal a day to keep them going.
Mutimukeye is among the 1.5 million refugees, that Hunger Fighters in partnership with WFP, reaches every month with cash after moving from food to food cash assistance.
Today all refugees no longer receive in-kind food but receive cash food assistance. The story covers procedures refugees went through before they received their food rations which is the same procedure they go through today during cash assistance from bank van at the designated center. But some refugees make queues at the Bank agent authorized by WFP. Refugee populations continue to be more vulnerable, having less food stocks, much fewer income earners and higher dependency on WFP assistance, higher debt ratio, poorer food consumption outcomes and higher use of food and livelihood-based coping. Approaching the lean season, the share of refugee households that are relying on WFP food assistance as their main source of food. The overall quality of diet was low with a large share of households having low dietary diversity, relying on a diet consisting of mainly cereal, pulses, oil and sometimes vegetables. Furthermore, half of all assessed households do not consume any haem iron-rich food.
The challenge that was most frequently reported by nearly half of the households was food prices increasing, negatively impacting the purchasing power of especially poor and market-dependent households. This was followed by around one fifth of households reporting that a lack of land for cultivation and lack of money was the main challenge to food security in their community. Following climate-related challenges of lack of rains, drought was reported by 18 percent of households as an issue to ensure sufficient harvest to cover food needs, while 16 percent reported that they did not receive enough food. In addition, 15 percent reported that they were not able to balance their diets by eating a variety of different food groups, which is supported by the low dietary diversity score reported across the assessed areas. Delayed food distribution caused concerns for 10 percent of households, while a long distance to travel to food distribution points and insufficient food assistance were both reported by seven percent of the respondents. Additionally, previous poor harvests, floods, lower demand for agricultural casual laborers during dry season, conflicting basic needs, for instance high expenses to cover medication or school fees, internal power dynamics in the household, and having only one breadwinner in the households are mentioned as challenges faced by some of the surveyed households. (From WFP)